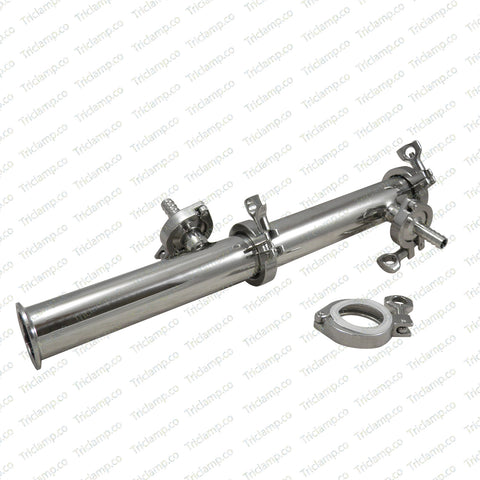 1.5" Tri Clamp RIMS Tube Kit, SS304 with Clamps and Seals
1.5" Tri Clamp RIMS Tube Kit, SS304 with Clamps and Seals
The main function of a RIMS tube is to maintain a constant mash temperature. It is also used for step mashing and mash-out. The element end fitting is threaded with 1" NPS threads. 
When constructed, this product will measure 20" in length.
This RIMS tube kit comes with:
(2) RIMS tubes

(2) 1.5" to 1/2" hose barb adapters
Required Parts*:
Water Heating Element

NPS Adapter

Temperature Controller

Pump
*SOLD SEPARATELY*
Warning
It is imperative that the heater element be wired by a qualified electrician, enclosed in a water-tight enclosure and protected with a FOCI circuit breaker! Improper wiring and/or control of a heater element in this environment CAN AND WILL KILL YOU. If you are not 100% sure you know what you are doing, get help. If you have any doubt do not use this device.
This device is inherently dangerous. Improperly used, dangerous pressure can quickly build in the tube resulting in an explosion of boiling liquid CAUSING EXTREME INJURY, BURNS OR EVEN DEATH!
You must use a temperature controller to monitor the effluent temperature and control the heater element. A device that can adjust the intensity of the output such as with PID technology and an SSR are recommended. Always set the temperature below 175* to prevent the element from boiling the wort in the tube.
You must also use a pump to move the wort across the element. A control relay must be installed that prevents the element's control relay from closing unless the pump is operating. There are quite a few ways to accomplish this, but your system should be wired so that the element cannot energize if the wort is not moving across it. This wiring in conjunction with the temperature monitor are the only safety features preventing the element from boiling wort in the tube resulting in a dangerous build up of pressure and possible explosion.
Each time you assemble the RIMS tube, be sure that the element is not contacting the body or thermowell of the RIMS tube. Carefully bend the element as needed to ensure the element is not contacting the tube body. Never use an element that cannot be installed without clearing the tube body.
Never rotate the inlet and outlet while the RIMS tube is in operation.
If you have any doubts in your ability to install and operate this RIMS tube do not use it..... 
Disclaimer:
These products may not be legal to operate in some areas. Affordable Distillery Equipment, LLC strongly discourages any unlawful use of these products and is not responsible for any damage or injury caused by the misuse or unlawful use of these products. Any person or entity that uses information or equipment provided by Affordable Distillery Equipment, LLC does so entirely at their own risk and accepts all liability concerning the use of the aforementioned equipment and information.